With your VerticalResponse account, you can connect to one Facebook and one Twitter account (Free Plan), 3 social media accounts (Basic Plan), or six accounts (Pro Plan).
The social accounts page in your account allows you to link a Facebook personal account plus a Facebook page if your company page is linked to your personal account, and a Twitter account.You may be a very social person and have more networks, and that's no problem! There are two ways to add more social accounts to your VR account.
First, you can add a new account under the Contacts tab.
Click Contacts at the top of the account
Click on the Social Accounts tab
Click 'Add new account'
Select the network you want to use, like Facebook, and then log into that account.
You'll now see your new account added and the next time you create a post you can use it.

And, you can add more social accounts on the fly from the Social Post creator.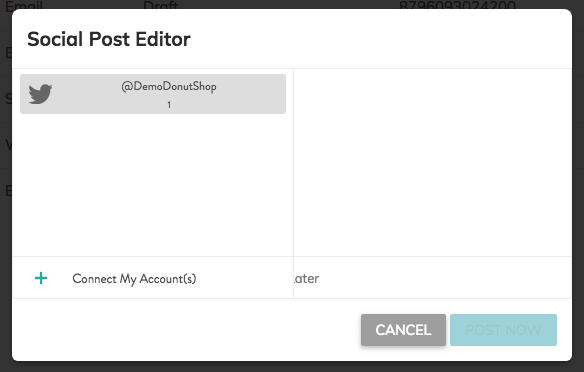 Click the "Create Social Post" button to start a new Social Post.
You will see your linked Facebook / Twitter accounts listed on the left side of the box.
Click the "+" symbol at the bottom left corner to "Connect My Accounts."
Click the Facebook or Twitter icon.
When prompted, sign in to your account.
You will now be able to select multiple Facebook accounts and post to them.
Note: When connecting a Facebook account, the cookies in your browser may automatically link the Facebook account you are currently logged into. To link a different account, you'll first need to log out of the current Facebook account, then follow the steps above to link the different account.