Click on the Gear icon and select Default Email Settings in the drop down menu to get to this page.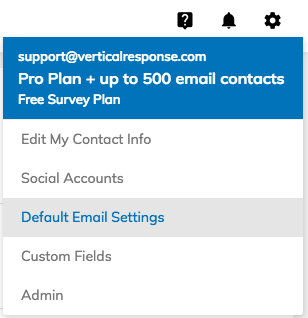 Default settings is for information in your email that will be the same every time you send. On the left you'll see the Header info, which are the parts that your email subscribers will see in their inbox. You can add a From Name, probably your company name, the from email address and reply to email address. These don't have to be the same, you can have different email addresses if you need them. Be sure the Reply to Email address is monitored so your email subscribers can reach someone if they have questions about your email.

Under the Header information is an optional logo you can upload. This will be used in different places such as a sign up form, but you will always have the option to remove it if you wish.

The right side has the postal address for the sender of the email. This is used in the footer of the email and required by the CAN-SPAM law, so you can't take it out. It should be the address for the Sender of the email, the from name, so most likely your company address.

You can fill in as much or as little as you like, and you can always make changes as you send out an email if some of this info changes for certain emails. And this page can be updated whenever you need to change anything. Just be sure to click the Save button in the top left before you leave this page.