Sometimes your readers don't open your email for any number of reasons. It could be that your email arrived when they didn't have time to read it, or maybe the subject line didn't catch their attention. Don't give up on them yet! Just because the first email didn't work doesn't mean you should remove them from your list. Instead, try sending your email again at a different time or using a different subject line. It could be that a little change is all your readers need to engage with your email and brand.

Setting up a list of non-responders is easy! We've built it right into your account. To get started, go to the Messages page, click on View Report for the sent email campaign you want to make a list of responders for. You'll be taken to the reports page.

If you want to see who didn't open the email, click View next to the number of non-responders. Now you can create a list of the people who didn't open your email by selecting Create a List on the right side of the page.

You'll see a pop up that says New List and a box with a suggested name: Non-Responders of (Name of Your Email) sent on (Date Mailed). The suggested name will make it easy for you to find the list and know what email it's from, but you can change the name to something else if you like. If everything looks good, click the Create a List button. If you've picked the wrong email or list type, just click Cancel and you'll return to the email stats.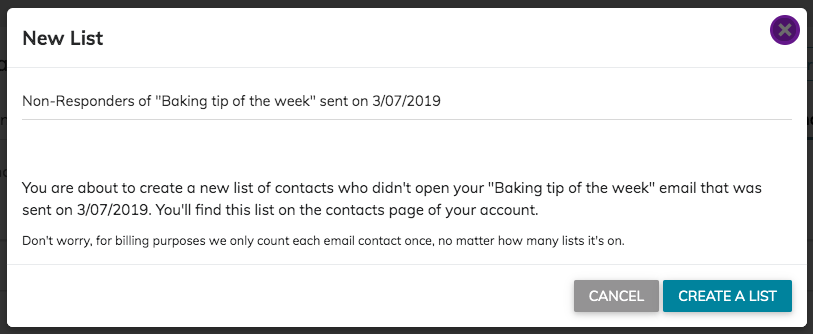 Once you've finished, just
make a copy
of your sent email on the
Messages
tab by checking the box next to your email and selecting copy. Now you can make a few changes to your email if you wish and schedule it to go. You'll be able to see if the changes you made had an impact since you know the people on this list didn't open the first email.
You can view the list at any time by clicking on
Contacts
. Here you'll see the new list with non-responders in the title.