Creating a new social post is a lot like posting on Facebook: fast, easy and maybe even fun! To get started from the Messages tab just click the Create Social Post button and a box will open where you'll type your post.

Want to skip the reading and watch a video instead? Click here!
The button is on the right side of your account, at the bottom.

Select the social network or networks you want to post to by clicking on the icons on the left side. If you haven't linked any social accounts yet, don't worry- just mouse over the Plus sign at the bottom of the window and link the ones you want to use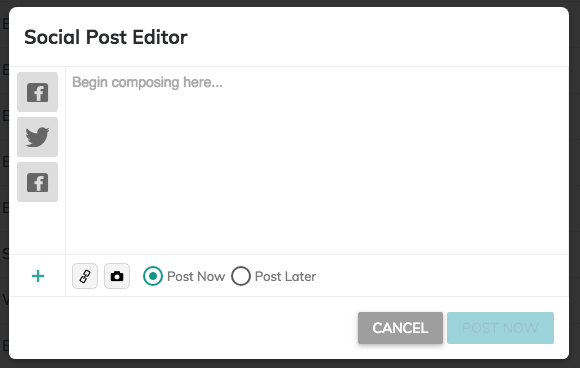 If you've selected Twitter you'll notice a character count in the bottom right of the window to help you stick to the 140 character limit on that network.

Just type or paste in your post. If you have a link or pictures to include, just click on the appropriate icon at the bottom of the post.

Camera icon will allow you share images in your posts.
Link icon will automatically shorten any URLs you want to share, and allows you to track clicks on the links, which can give you great feedback on how your followers are interacting with your posts.

When you're happy with the post, click Post Now if you want it to post right away, or if you want to schedule it for another day, click Post Later. This will allow you to pick the time and date for your post.

And you're all set! You can cancel the post if you wish, and once it's live, you can check out the stats on the messages tab.