Pay as You Go Pricing
In addition to monthly subscription plans, VerticalResponse offers a Pay as You Go option. If you're an infrequent sender, or just want the flexibility to buy what you want without a subscription, this plan is for you. Just purchase the number of email credits that you need to send your email campaign. For example, if you are sending to a list of 2,000 contacts, you'll need to purchase 2,000 email credits.
Here's an overview of the Pay as You Go plan:
Allows you to purchase the exact number of email credits that you need.
The Pay as You Go plan also gives you some of the paid features that are normally included in monthly plans, like:

Remove the VerticalResponse logo from the email footer
Follow Up Emails
Advanced Reporting
Connect one Facebook and one Twitter account to share your message over social media
Unlimited sign up forms
Access to live customer support via phone, email or chat.

Credits expire after 1 year after date of purchase. Credits are used on a first in, first out basis.
The number of contacts that you can upload to your account is approximately 25 times the historical number of credits purchased.
HOW TO PURCHASE PAY AS YOU GO CREDITS
1. Login to your VerticalResponse account
2. Select the "Upgrade" button in the top right of the page

3. Scroll below the monthly subscription options and select Pay as You Go
4. Input the number of credits that you need in the box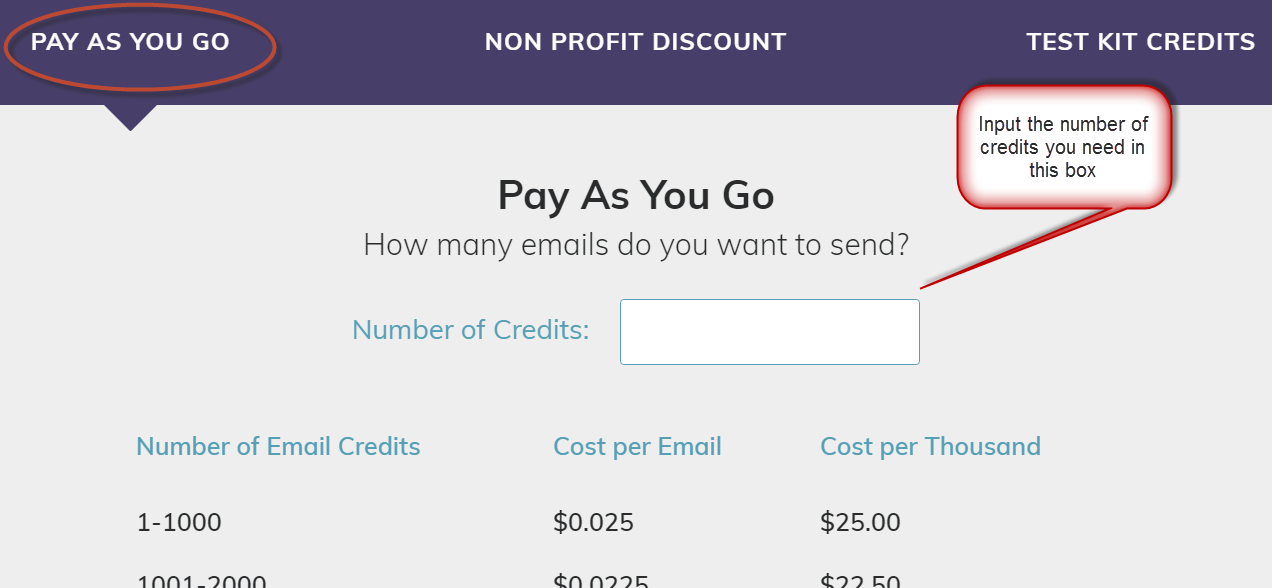 5. The price of your credits will be automatically calculated for you. Click on "Purchase Credits" to complete the transaction.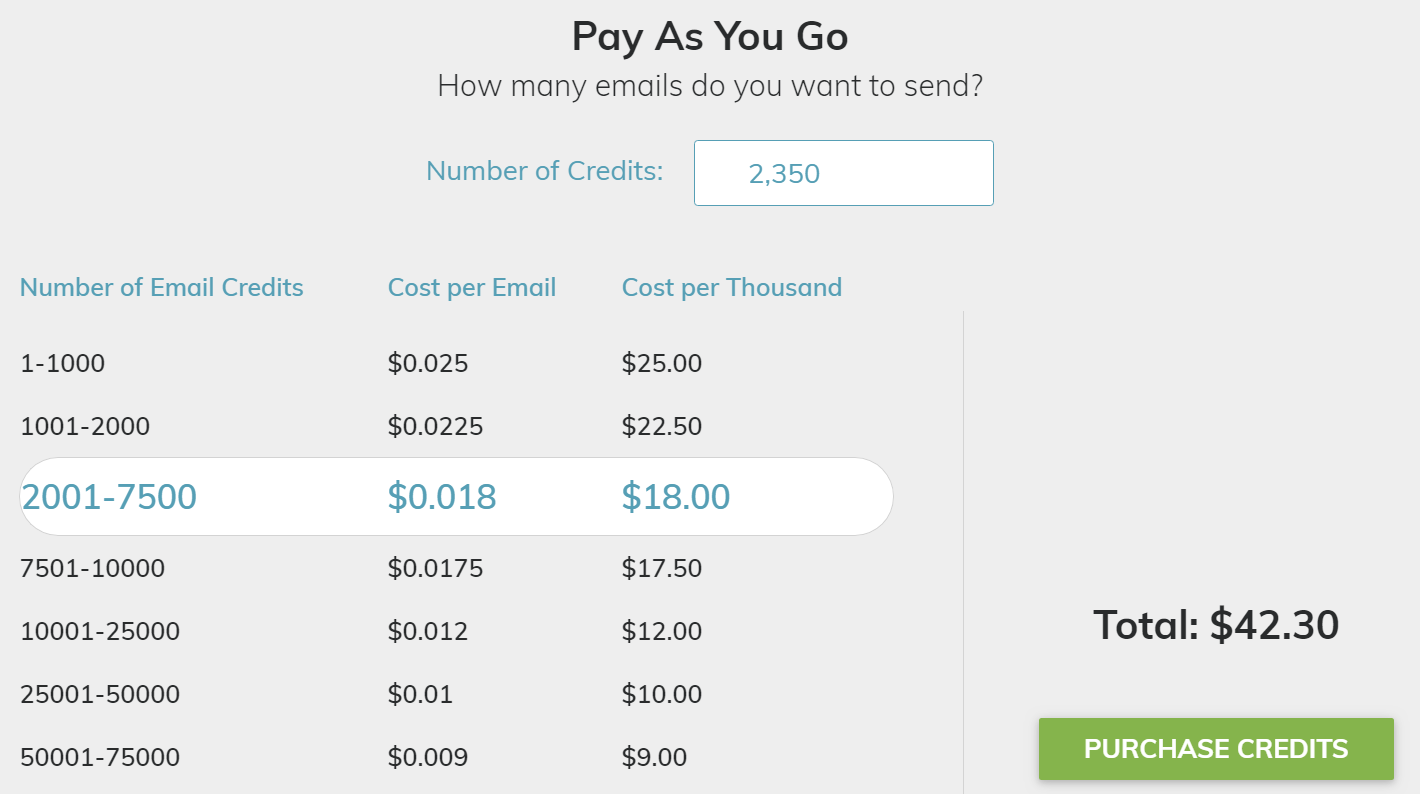 You may purchase up to 500,000 credits within the app itself. If you need more, please contact our Customer Support team.

PRICING TABLE
Note – the more credits you buy, the more you save. Credits will expire after 1 year from date of purchase.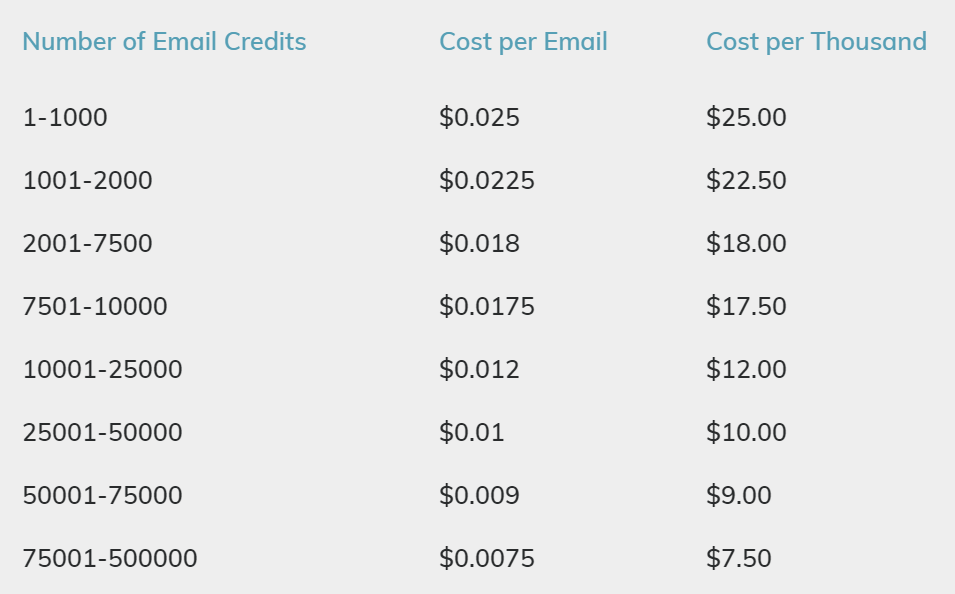 CHECK CREDIT BALANCE
To check how many credits you currently have:
Hover over the settings icon on the top right side of your account.
Click on "Billing History"
Select "Email Credits" to view your available balance as well as when your email credits will expire (which is 1 year after your purchase date).
INSUFFICIENT NUMBER OF CREDITS
If you try to send an email campaign and do not have enough credits, you will receive a message to purchase more credits. This could occur if you are sending a stand alone email campaign or if you are scheduling an automated follow up email or setting up email automation.

If you don't want to be worried about whether you have enough credits or not for your campaigns, you can set up your account to automatically add a preset number of credits with auto refill.
AUTO REFILL

The auto refill option allows you to set a quantity of credit to purchase automatically when your account balance falls below a certain limit.
To set up auto refill, follow these steps:
Hover over the settings icon on the top right side of your account.
Clicks on "Billing History"
Select "Credit Settings"
Specify the number of credits that you want to have automatically purchased.
Select how low your credit level must reach before credits are automatically added to your account.
Click "Enable Auto Refill"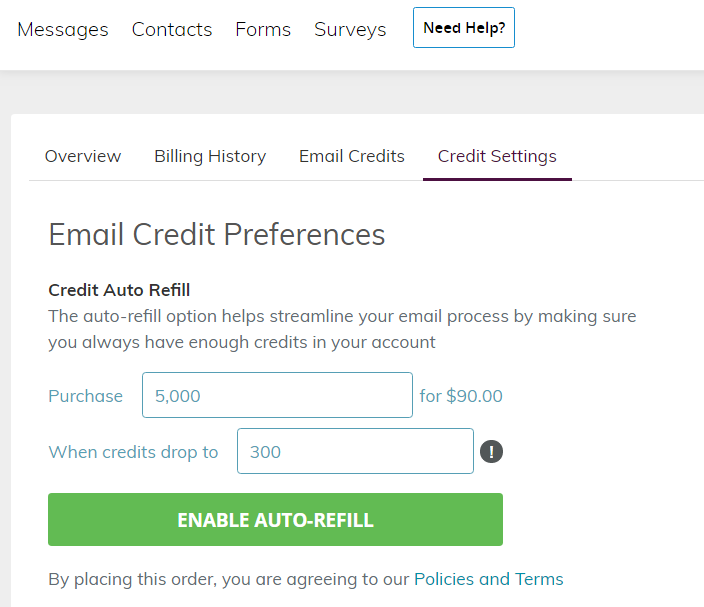 To turn off Auto Refill, click the "Disable auto refill email credit" box. Then click "Save".