The Contacts section keeps track of both your email mailing lists and social media connections. There are a few options to add contacts to a list.
1. You can upload or drag and drop your email contacts from a .csv or .txt file
2. Manually type contacts in one by one.
3. Import contacts file from Yahoo, Outlook, AOL or other email apps
You can also connect to your Facebook and Twitter accounts in this section, plus see how many followers you have for each social account.
FIND A SPECIFIC CONTACT

Search
-
To pull up a specific record on your list, find the Search box on the Contacts tab in the top left corner of the page.
Search for the address in the Search box at the top left.

Enter the email address or person's name and hit Search; the matching contact(s) will come up in a flash.
At this point you have a some options, depending on what you need to do with the record.
If you need to make a change to the data you have for this person, click on the email address and add any new info you need to.
Or, by clicking the box next to the contact record you can unbounce, unsubscribe or delete the record from your account. If you chose one of these options, we'll double check that you really want to do this and then we'll take the action.
CREATE A NEW LIST New Lis
t - To create a new list, just click the 'Create New List' button to the right of Contact Lists and we'll guide you through adding a new list. At the bottom of this section you'll see the total number of mailable addresses in the green View All Contacts button. If you've uploaded more email addresses than your current mail plan allows, you'll see the top number of subscribers on that button. The View All Contacts button may have one more number than you're expecting. This is because we're counting your email address from your account as a one of your mailable addresses. We don't add it to a list, but it's there for you if you want it for testing your emails. Feel free to add it to any list you like!
Contact Lists
- The email list area of the page has lots of information to share, let's take a look at the columns:
Name - These are the names of your lists to help you keep track of the data you've added to them.
Total Size - the total number of email addresses on your list, mailable or not.
Mailable - the number of addresses on your list that you can mail to. The number will vary from the Total size based on the email contact limit from your pricing plan, and bounces or unsubscribes from emails you've sent out. Once an address bounces or unsubscribes you won't be able to mail to it since we know it's a bad address.
Created - the date you set up the list.
Last Modified - the date you last made any changes to the list.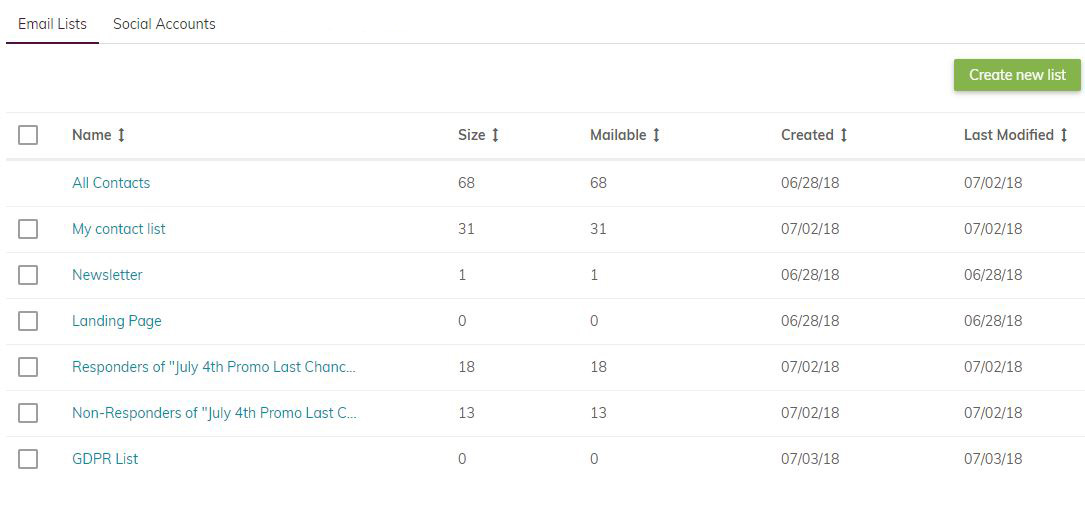 DOWNLOAD A LIST

If you need to download any of the lists in your VerticalResponse account, you can. They're your contacts, so you can access them any time you need to.

To download your list

1. Go to the Contacts tab
2. Click on the name of the list you wish to open from the table of all your contact lists.Now you'll be on the Active tab of the contact list.
3. Click on the More Actions dropdown on the right side and select Download List.

We'll download your list in a .csv file that you can use where ever you need it. We'll include any of the info you have for your contacts, such as address or custom fields, and if there were any bounces or unsubscribes for any the records.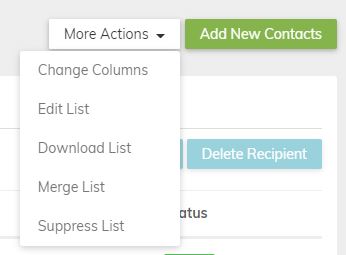 ADD CONTACTS TO AN EXISTING LIST

To add contacts to an existing list, you have two options:

1. Go to the contact list you wish to add to.
2. Click Add New Contact. You will be prompted to Upload a File, Manually Add contacts, or import contacts from other applications.

Or from the main Contacts page you can use the Quickly Add Contacts section.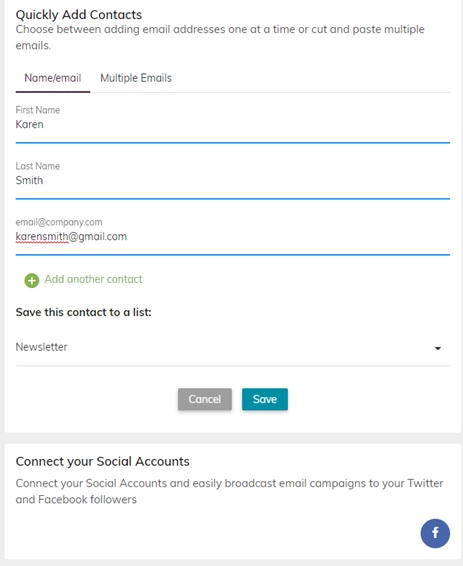 EDIT LIST NAME

To edit your list name, go to the contact list you wish to edit, click More Actions, and select Edit List.

On the screen that opens, you can alter the list name as well as change if you do or don't want people to be able to sign up for this list.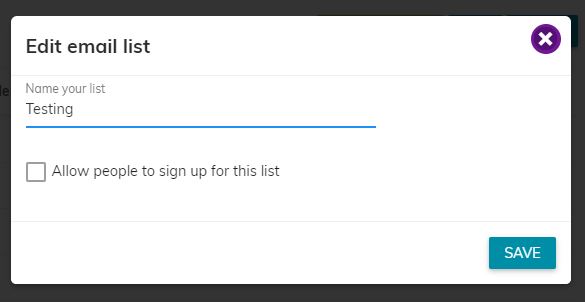 ADD A SOCIAL ACCOUNT

To add your Facebook or Twitter social accounts:

1. Click Contacts and then Social Accounts
2. Click Add new account
3. Follow the authorize instructions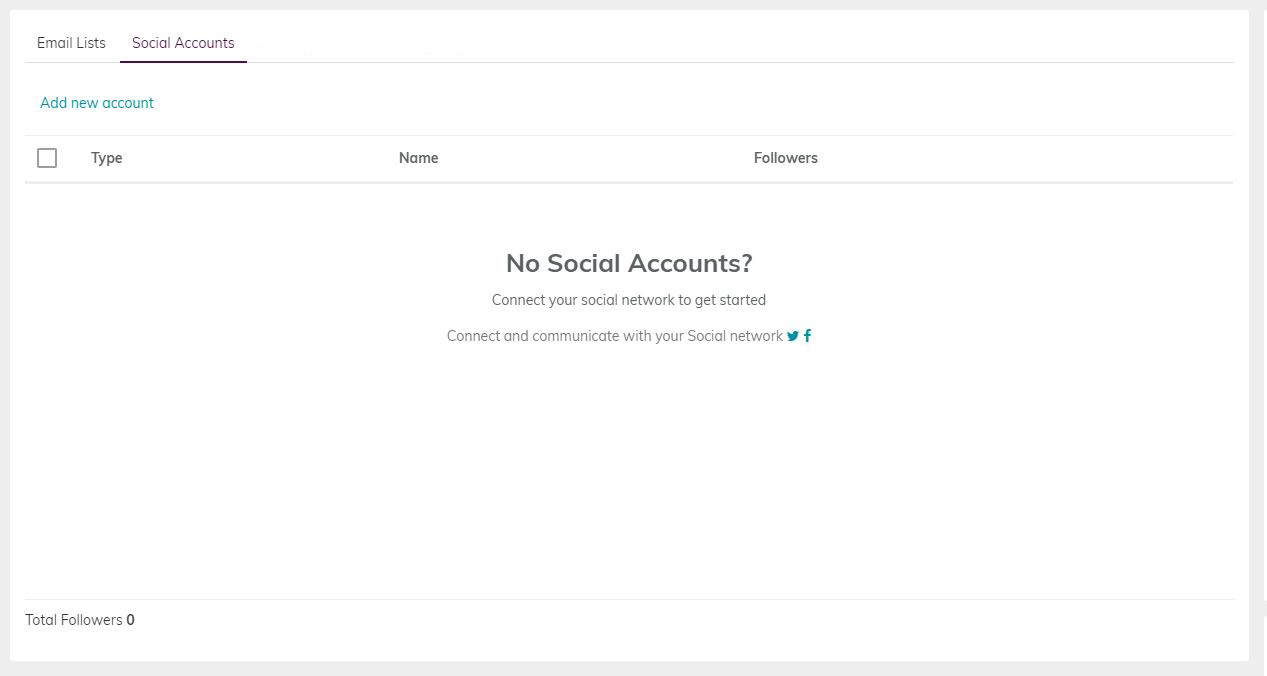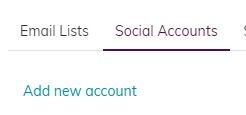 Here's what you'll find here
Platform Type - is the icon social account you've linked up, F for Facebook and the bird is for Twitter.
Name - the name associated with the social account, it could be your name, your company name or your Twitter handle.
Followers - the total number of followers for each account you've linked up.
Total Followers - is the total number of followers you have for all your social accounts combined which is highlighted in green at the bottom.

ADD CONTACTS MANUALLY

Contacts Quick Add - Need to add a few contacts for your email campaign, but don't have a list? Our Contact Quick Add tool allows you to add single or multiple email addresses in short time span. Simply add a first name, last name, and email address for single contacts or copy and paste up to 50 contacts, save them to a new or current list, and click 'save' to get them added into your account.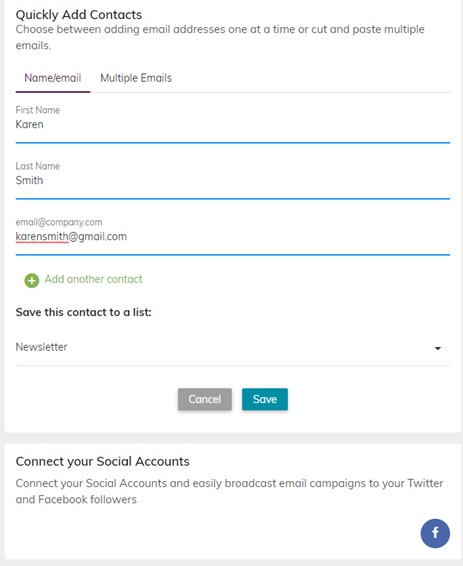 Edit a Contact - To update a contact's fields like email, first name, last name, or even custom fields, checkout this article.

Sign up Forms - Learn about using sign up forms.