In order to see email reporting on your Leads and Contacts you need to add the VR Messages custom object. Once this has been added, anyone who as access to the Lead/Contact can see what emails have been sent and how the person responded, without ever leaving Salesforce. The VR Messages object contains all the email data, this one is pretty important to use. The VR Lists object tracks the lists the Lead/Contact is attached to, but no email data. This one is optional to add and use.
To add the VR objects to the Leads and contacts follow these steps for both Leads and Contacts.
Go to Setup -> Customize -> Leads -> Page Layouts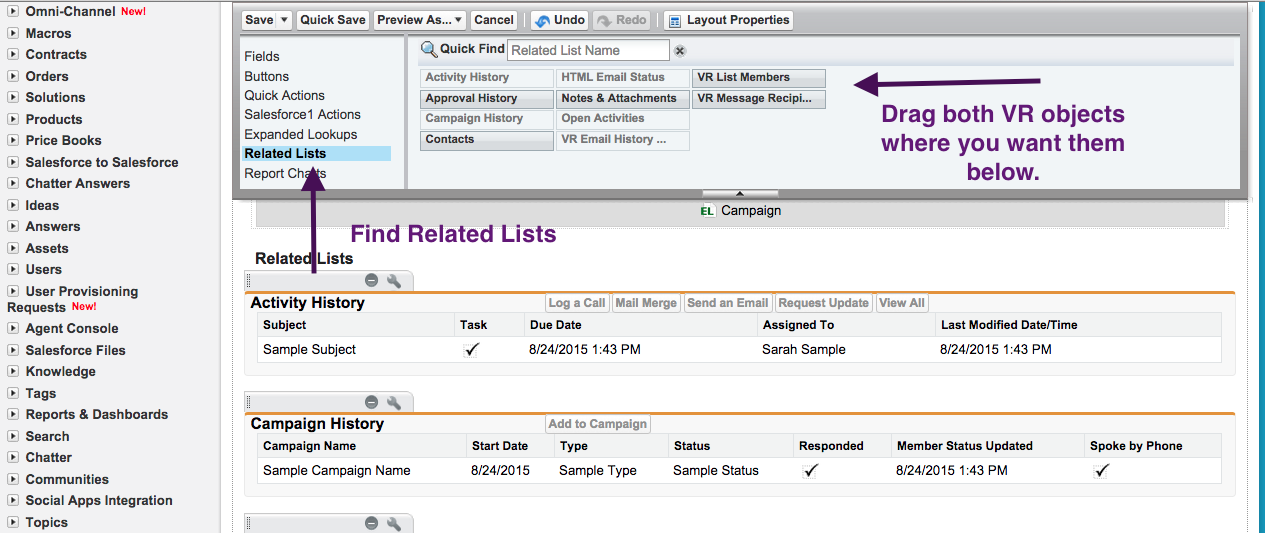 Select the Layout to edit and then under Related Lists find the two VR objects, VR Lists (if you want to use it) and VR Message Recipients (the most important one) and drag them to the Lead Detail section below. Set them up where you want them to be, you can move them around as you like.
Once it's where you want it you'll need to add the fields you want to see to it. Click the wrench icon at the top of the object to bring up the list of options.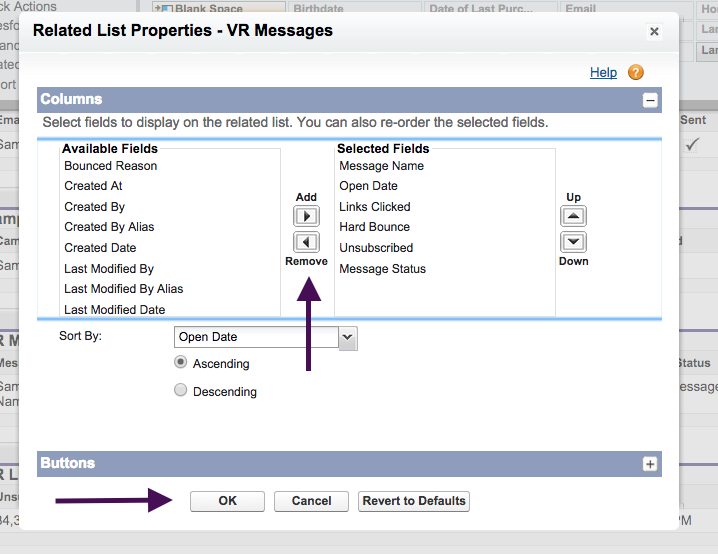 You can add anything you like from the list, just click the name and then the right arrow. If you change your mind, just click the name and the left arrow to remove it from the list. We recommend using these fields for VR Messages:
Message Name
Open Date
Links Clicked
Hard Bounce
Unsubscribed
Message Status
After you've selected the fields you want click Ok at the bottom to save them.
If you're using the VR List object click the wrench and add VR List and Created date. Those are the two most useful fields for this object. Click Ok to add the fields.
Click Save in the top left corner to save all the changes you've made. You'll now see the VR objects on your Leads.

Once this is set up, do these same steps for Contacts, choosing Contacts instead of Leads in the steps.