Creating a new email only takes a few simple steps! Just select a template, add some images, links, your text, and you should be ready to send.

Our super simple system will walk you through setting up your email. The first step is to choose what kind of email you want to send from our template gallery.

Template Gallery

The template gallery is where you can find pre-made designs for your emails. You'll be able to choose from different kinds of emails such as announcements, newsletters, basic emails, coupons and more. You'll also have the option to upload your own HTML template or start building an email from scratch.

All the templates are responsive, so no matter what size screen your email is read on, everything should look good. So your mobile and tablet readers should find reading your email easy, just like those on a desktop computer.

Once you have chosen an email template, hover over it and press Continue.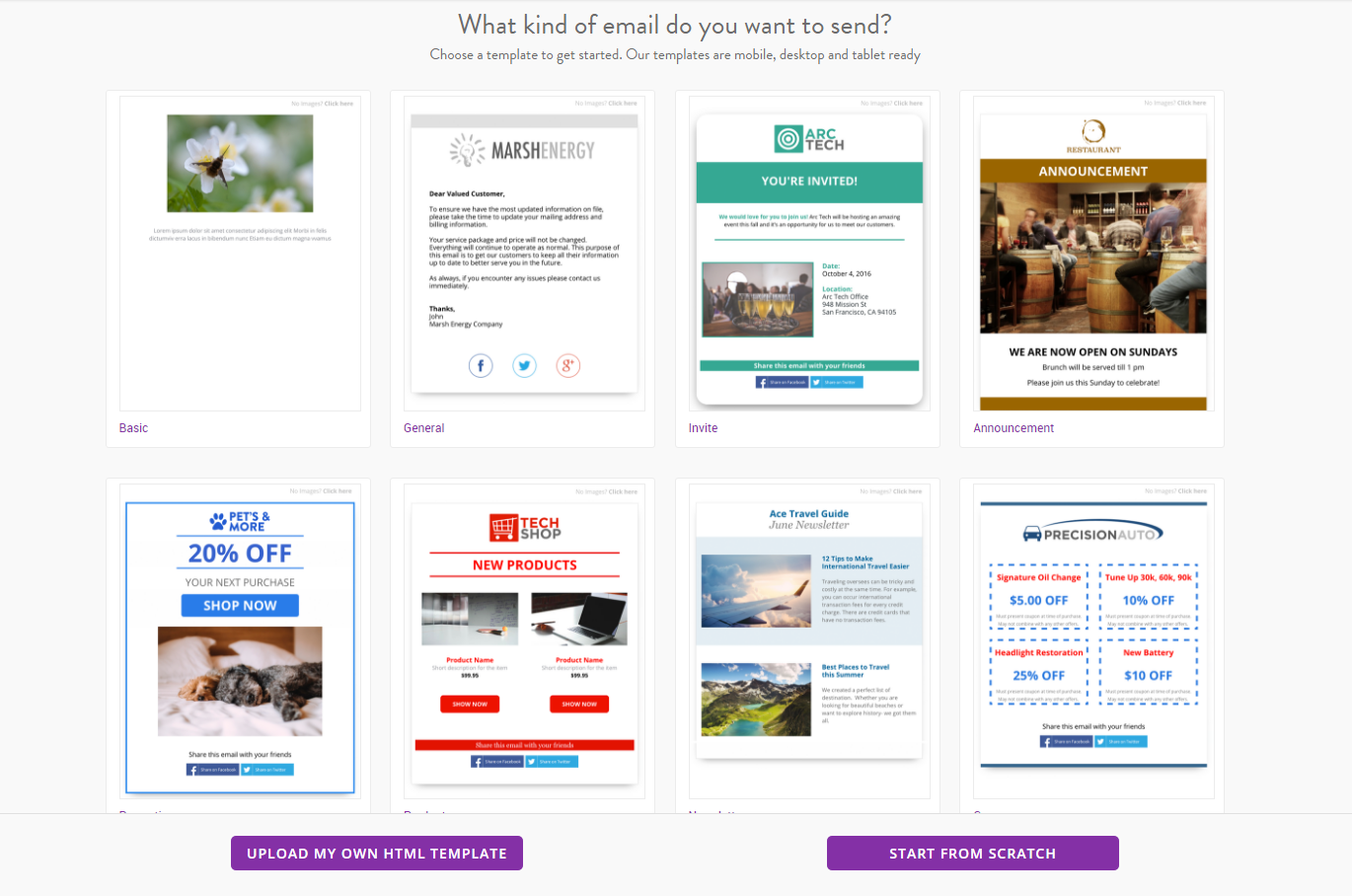 Editor

Now that you've selected the template you want to use, you can add your content. And we've made that a snap! Templates are pre-set with images and text blocks that make sense for your business. But you can easily make changes to fit your needs. The editor allows you to completely customize your email. You'll be able to insert content blocks, edit images, change the background and more!
To insert a content block, choose a layout from the left hand panel.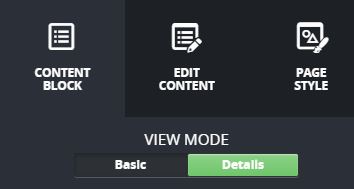 Editing a content block – To add a content block, use the Click to Edit button on the content you want to edit. Once clicked you'll be able to edit the text, font, border color, row color and more.
Editing an image block – To add an image block select the Click to Edit button on the image. Once clicked you'll be able to replace, edit, link to the image and more from the panel on the left.
Social Share – Add social sharing icons to your email to enable readers to share your email on their social accounts, bringing you a bigger audience.
Follow Us – Select the social block to insert the follow icons into your email. Once the block has been inserted, select Click to Edit. Now in the left hand panel you'll be able to select which social accounts you would like to display, as well as choose the style, size and spacing of the buttons.
Button Builder – To add a call-to-action button to your email, from the left hand panel select the button content block. Once selected you'll be able to edit aspects such as the label, URL color, size and more.
Image group – Add two images side-by-side to showcase products or services.
Divider – Add a line between Content Blocks by selecting the divider option from the content block panel. Select color and thickness of the line and add space above or below it by hovering over the line and selecting Click to Edit.
Swap – To modify the layout of a Content Block that contains two or more columns you can use the swap feature. Simply click Swap and then select Move it here. You can do this to make the image go on the left and text on the right or vice versa.
Row Color – Change the color of the rows of your email easily by selecting the row and then select Color to the right of the row. Or optionally, select Page Style and select your color preference under Theme Row Color. You can even edit the thickness, border radius, shadow width and more.
Background – Change the background of your email to a certain color or theme. Visit the Page Style tab and then Background. Here you will see the different options for backgrounds.
Delete – At any time you can delete any content blocks you add easily by hovering over the row and selecting Delete.
Preview – You'll be able to view your email in desktop, mobile and tablet form.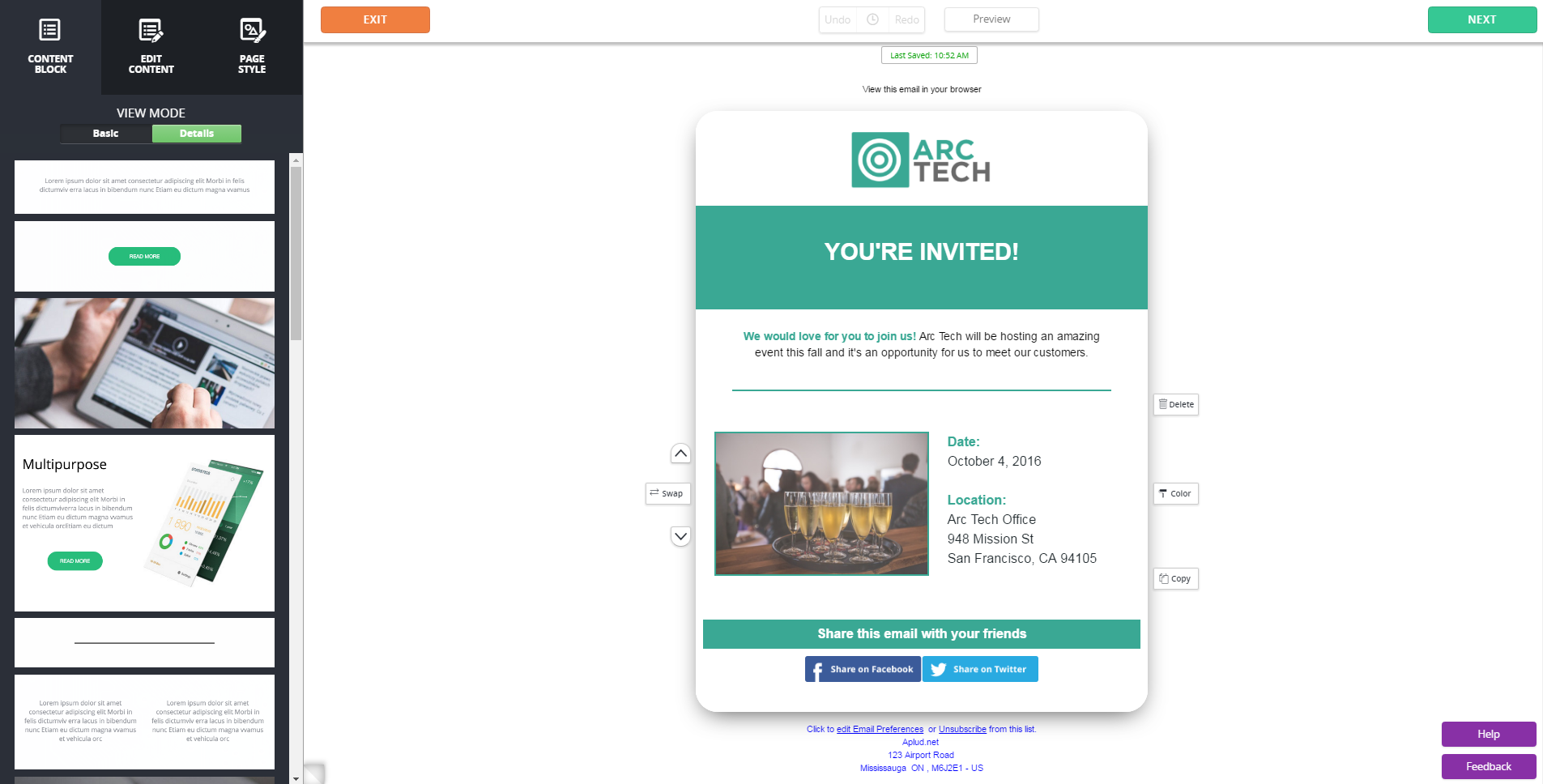 While you're adding text to your email, our system will automatically check the spelling for you. Be sure you have Spell Check turned on in your browser, and you'll see any errors with a red underline.
The Content Block will adjust to the amount of text you include or the images you add; you won't need to resize anything.

All changes to your email are saved automatically, so no need to worry about losing your work! Did you add something but don't like it after all? Simply use the undo button. You'll even be able to use the clock icon to undo previous edits.

Preview your email on desktop, mobile, and tablet devices by clicking the Preview dropdown and selecting Preview. You can also send out a test by selecting Send Test from the same dropdown. Test Kit is a tool that allows you to view your email in multiple email clients, check your links, and preview your subject line in email providers. Learn more about the Test Kit tools here.

Once you like how your email looks, click the Next button in the top right corner.

The next step is to fill our your campaign information.
Campaign & Sender Details

This may look complicated or sound super techy, but it's just the info your readers will see when they first get your email.

Here's a breakdown for each line:

Email Name is what you will see in the list of all your messages, customers won't see this. Name your email something that will make it easier to find later.

From Name will usually be your company name; most of your readers will recognize your company name before a person's name.

The Subject Line is at the very top of the email and should be something interesting and attention grabbing, to make your readers want to open the email. It should also have something to do with the content in your email, which is a requirement of the CAN-SPAM law.

Preview Text appears in some email clients and is an additional way to grab your readers' attention.

The From Address is the address your readers will see when your email comes into their inbox. This doesn't have to be the same as the reply-to email address, but your recipients will see it, so your personal email address may not be what you want to use here.

Reply To Email is the email address is where we'll send any responses to your email. Your recipients won't see this one, so be sure to use one that's monitored in case they have any questions.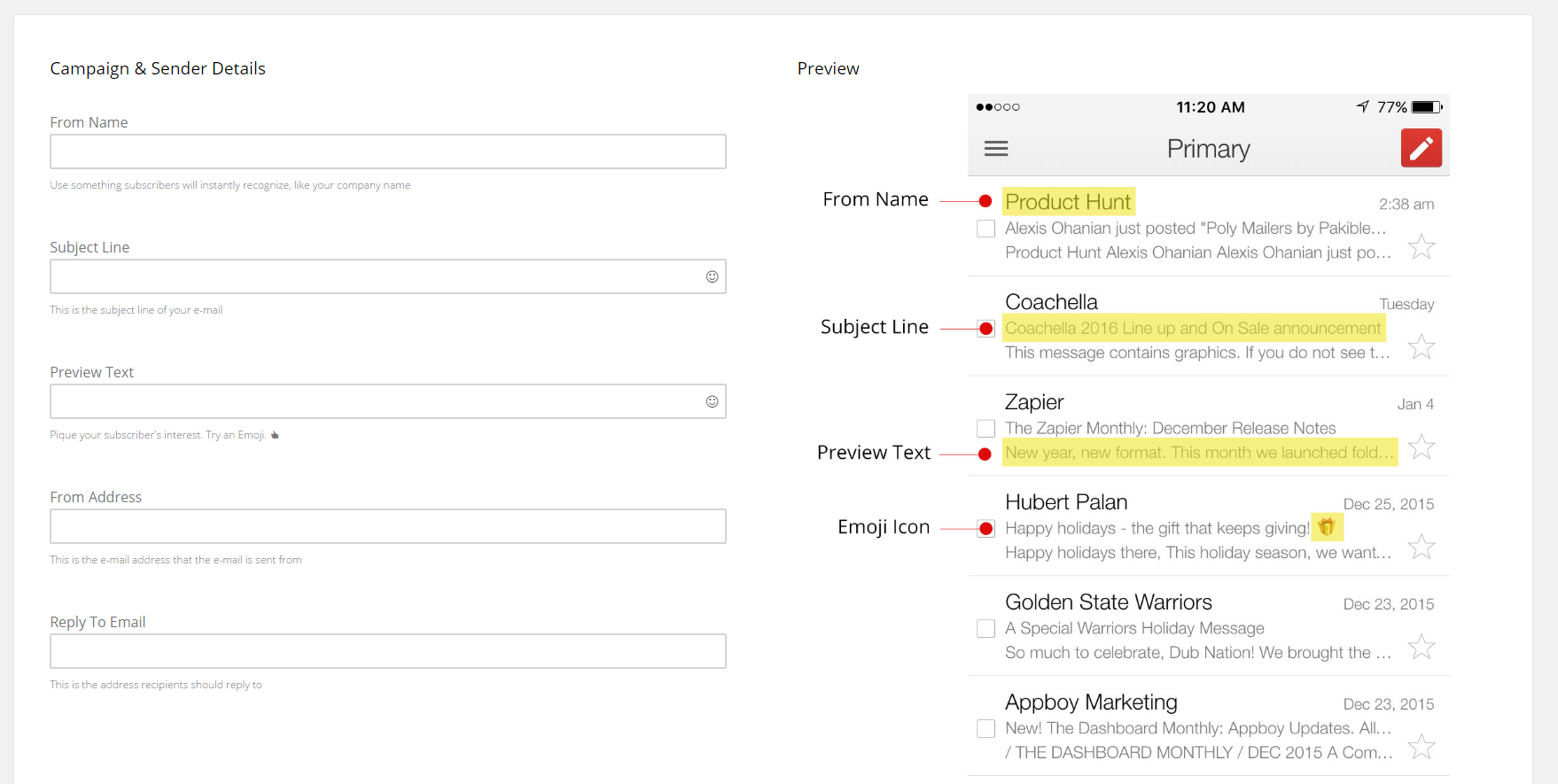 Fill in all the details and click the green Continue button.

Then you can select your lists and schedule when you want your email to go out. When you are ready to send click the green Send Email button in the top right corner.

And there you go! In just a few quick and easy steps, you now have an email to send. Remember, once you send the email, check your reporting to see how effective your email and social posts are with your readers.